Suchithwa Bodhanayanjnam (SBY) Rally In Kolenchery Town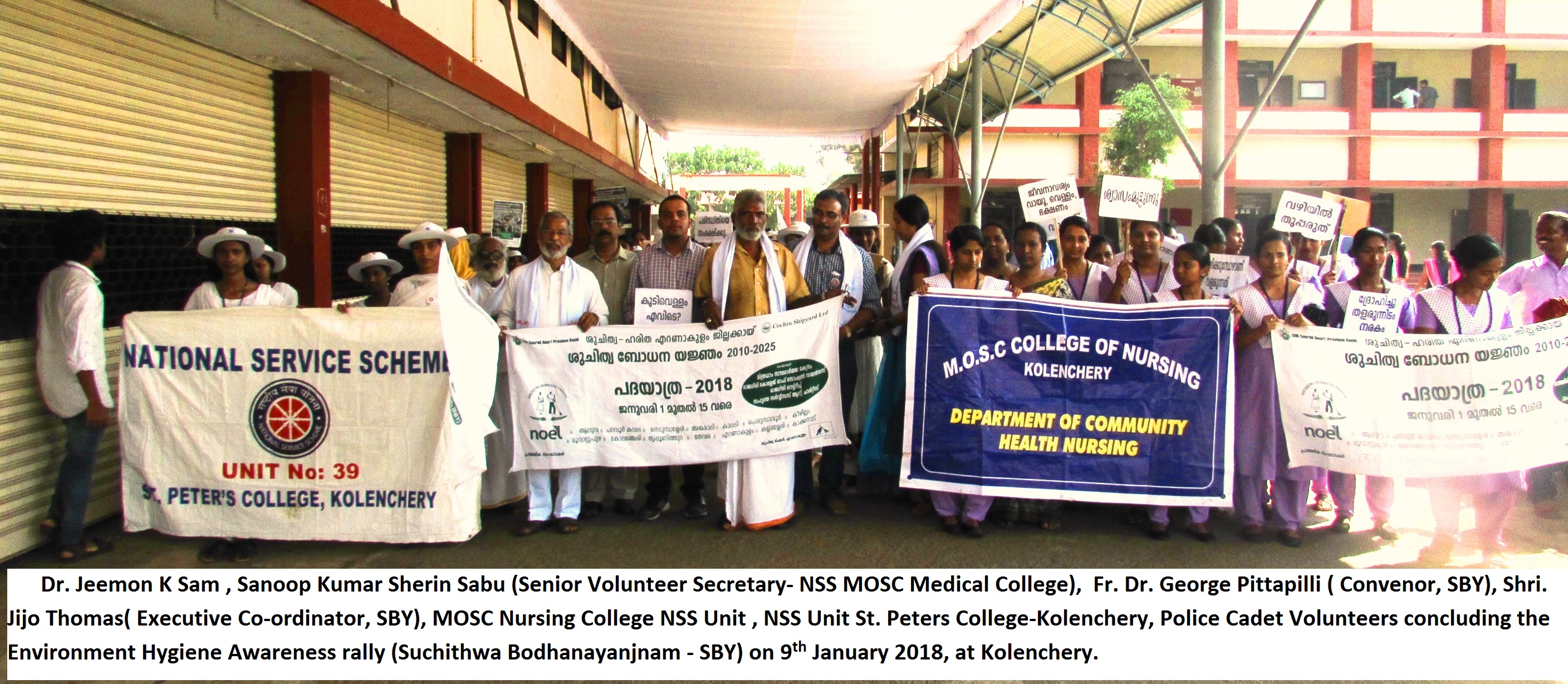 National Service Scheme of MOSC Medical College and Nursing College , Kolenchery, and St. Peters College, Kolenchery flagged off the 9th day of "Suchitha Mission" 15 days Environment Hygiene Awareness rally (Suchithwa Bodhanayanjnam - SBY) on 9th January 2018, at Kolenchery town. Dr. Jeemon K Sam and Sanoop Kumar Sherin Sabu (Senior Volunteer Secretary- NSS MOSC Medical College) with Fr. Dr. George Pittapilli ( Convenor, SBY), Shri. Jijo Thomas( Executive Co-ordinator, SBY) and team from St. Peters College, Kolenchery, headed the rally from Kolenchery town.

NSS volunteers of Nursing college of MOSC, Medical College, Kolenchery, volunteers of Police cadet, NSS volunteers from St. Peters School, Kolenchery and St. Peters College, Kolenchery actively participated in the rally.

The rally aims in creating awareness among the public on environment hygiene, safe disposal of waste, prevention of communicable disease, organic farming projects, conservation of energy and keeping the nation clean. It was started in 2010, and this year marks the 8th fortnight program. This is a continuous effort by the Suchitwa Mision in which all voluntary societies hold hands together for a clean environment and nation. Salutations to the "Swatch Bharat" project initiator, Hon. Prime Minister Shri. Naraendra Moodi!
For Details:
Sanoop Kumar Sherin Sabu Suchithwa Bodhanayanjnam
Senior Volunteer Secretary Kalamasherry, Aluva
NSS MOSC Medical College, Kolenchery Mob - 9744684048, 9847747650
Mob - 9847811159 Mail : suchithwabodhanayajnam@gmail.com
Mail : sanoopkumarsherinsabu2007@gmail.com

Video of rally-
#Sanoop Kumar Sherin Sabu#